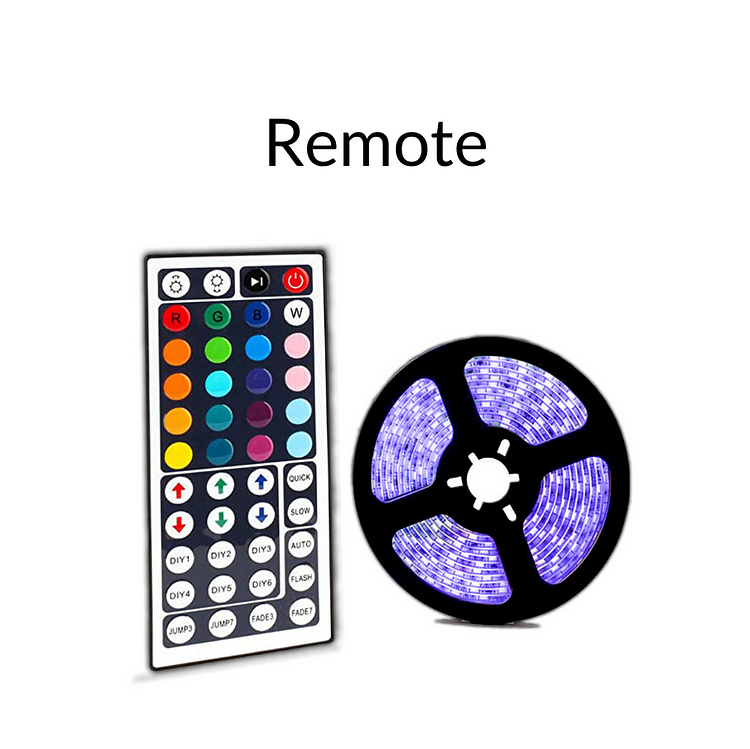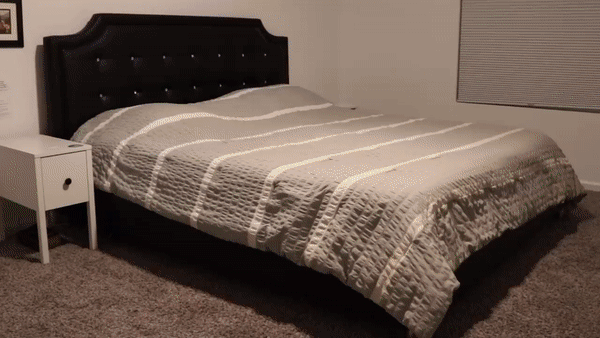 High quality: with 48 feet length,360 RGB beads, built-in ic, and pure copper material design, working up to 70000 hours, and the color is very pure
Applicable to various: led lights can be used to decorate restaurants, bedrooms, upstairs, kitchens, porches, computer tables, and living rooms, especially for parties with music, your friends and family will love it
Multiple connections: three 16.4 feet cables contained, each one can be connected easily, so you can achieve the length of 16.4 feet or 32.8 feet or 49.2 feet
Transform Your Decor: These smart strip lights can be used for decorating your dining room, bedroom, staircase, or kitchen. They are also great for your holiday decor or as gifts for family and friends (Note: 4-pin connectors not included).
Our classic Remote Control LED Light Tape is the flair that your house is missing. Stick to any flat surface, turn on with the remote, and watch your room transform!
20+ Different Colors

14 Different Color Modes
Can Display One Color At A Time
Control the mood of your room using just your smartphone with our BlueTooth LED Light Tape! Dozens of lighting options & 16 million color choices will instantly light up your life!
16 Million Colors
40+ Lighting Modes
Easy BlueTooth Color Control
Can Display One Color At A Time
Our exclusive DreamLight LED Tape can display multiple colors at once! Perfect for parties, this extraordinary light tape will make all of your friends jealous.
16 Million Colors
Over 120+ Lighting Modes
Rainbow Mode Can Display 5+ Colors At Once
Our LED Light Tape is the ULTIMATE addition to your room! Choose between any of three control modes: Remote, BlueTooth, and DreamLight. All of our Light Tape is fully customizable and can be cut & adjusted to the desired length so that you can add the perfect touch to any part of your home!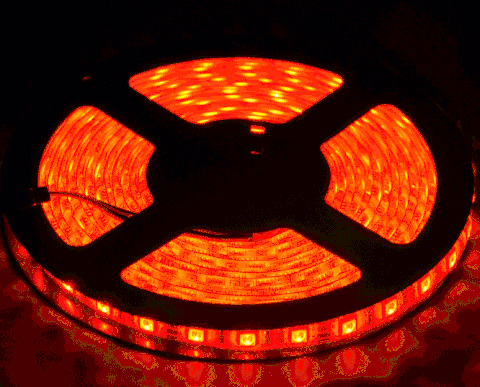 FAQ

Q: How do I make my tape show multiple colors at once?
A: Only our DreamLight LED Light Tape has the ability to display multiple colors at once. If you've purchased our DreamLight LED Tape, you can download the app & enjoy 100+ color modes, many of which feature multiple colors simultaneously.
Q:
Can I cut the LED Light Tape?
A:
Yes, our light strips have designated cutting points every 1.5-3.5 inches. These are clearly marked with a scissors icon. If you don't trim as designated cutting points, your light strips will not work.
(Note: Only the side of the light strips that are plugged in will light up. The other side will not unless plugged in with an additional power plug).
Q:
Why is my remote not working?
A:
Due to shipping restrictions, we are not currently able to include batteries with our shipments. You'll need to purchase a CR2025 battery for your remote. If your remote is still not working after inserting a battery, please contact our support team.(
[email protected]
)
Q:
Will I receive a single 32 or 45-foot strip if I purchase those?
A:
Most applications don't need a single strip this long. For that reason, you will receive multiple 5M strips and can either attach them or use them separately. The adapters included with 10M and 15M kits allow you to use each strip individually if you'd like.
Q:
How do I install my LED Light Tape?
A:
You can find our installation instructions here:
https://www.youtube.com/watch?v=sNji9Dehv3s
Q:
Can I add multiple light strips together?
A:
Absolutely! You can add as many light strips together as you'd like. However, if you're connecting more than the power adapter is designed for, you'll notice your light strips are dimmer than they should be. The power adapter included with 5M light tape is only intended to power one strip. the adapter included with 10M light tape is intended to power 2 strips, and the adapter included with 15M light tape is intended to power 3 strips.
STEP 1: Planning
Be sure to measure the length of the area you want to set the lights on. We recommend having LED lights go vertically up your wall, but you can also place them horizontally.
STEP 2: Preparing a Clean Surface
Properly use a rag or paper towel to clean off any dirt or dust in the area you'll be applying your LED lights onto. Doing this is necessary so the adhesive can stick & hold on strongly.
STEP 3: Revealing the Adhesive
Gently peel back the plastic on the back of the LED strip to reveal the adhesive. Only peel about 2 inches ahead to ensure the rest of the LED strip doesn't catch debris, dust, or dirt while applying.
STEP 4: Proper Installation
Start by applying the beginning of the strip against the wall gently. Try staying as close to the corner where the wall and ceiling meet to make sure the lights stay in a straight line when applying them horizontally or vertically. Ask a friend or family member to hold the other end of the lights and peel the plastic a bit at a time from the adhesive to help make this process easier.
STEP 5: Power On Your Lights
Ensure you've properly connected the controller/receiver to your LED strip.
LED Strip and Controller Receiver both have arrows at the connection point.
Connect a power supply to the Controller Receiver and plug it into the closest socket.
Step 6: Check Your Controller
The remote uses a CR2025 battery.
Make sure you've purchased a battery at your closest retailer.
After installing the battery, check the remote by pointing it at the Remote Receiver.
If nothing is happening, don't worry, just check that the battery was not inserted upside down. Try flipping it over and check to see it's working.
STEP 7: Enjoy Your new LED Light Tape!

NO RISK PURCHASE - 100% MONEY-BACK GUARANTEE
Limited Stock Due To Popular Demand

HOW TO PAY
✅Payments Via PayPal®, Debit, and CreditCard.
OUR GUARANTEE
If for some reason you don't have a positive experience with us, please let us know and we'll do whatever we can to make sure you are 100% satisfied with your purchase.
Shopping online can be intimidating, but we're here to make things easy.